I almost left tokyo before trying this. Why? It seemed so simple I thought it might not be worth it. I mean, ketchup+rice+omelette? Nothing too new there, right? Wrong. I bought one of many ready-to-heat bowls at the local Lawson's, portioned off a quarter, thinking i'd leave the rest behind. Wrong again. The next morning I was on a flight back to Chicago wondering how I was ever going to satisfy my newfound craving back home. Research, tests, and trials later...

When I first discovered HMart it was like a black hole that easily sucked up two hours of my time. These days I try to stay focused and only shop for what I need (with a couple of sample bites along the way). Some favorites: Shirataki noodles, discovered while building my morning noodle bowls at the local Lawson's and Family Marts around the corner of my Shinjuku-Tokyo capsule hotel. Both these noodles and Konjac triangles are great calorie-free fillers. Couple it with one of many broth mixes available at HMART (usually only 10-15 cal per 3 cups or some even calorie-free such as the Lee Brand Wonton soup mix). Pho paste has a spicy deep flavor that will fill you better than the rest. A great way to fake it till you make it to lunchtime.
Powered by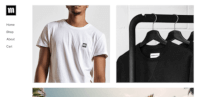 Create your own unique website with customizable templates.